Pre-cast Concrete Cleaning
Durability and a long life expectancy are the two main reasons why pre-cast is used on commercial buildings. Mildew growth and environmental staining will occur on most pre-cast within several years.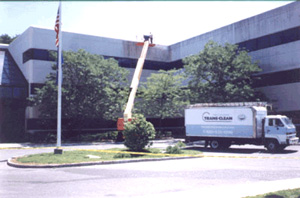 The durability of pre-cast allows Trans Clean to use a higher pressure cleaning with 180 degree hot water to remove the stains. In many cases no detergents are needed at all but we do utilize a complete line of restoration cleaners for those hard to remove stains.
Give us a call if you have any questions.
FREE waste water collection and disposal for Commercial Jobs
(just mention this offer from the website for credit)
---
Specific Areas of Expertise - For Commercial Cleaning Services

Please select the specific commercial services you may need,
for more information:
Commercial Building Cleaning - Interior
Commercial Building Cleaning - Exterior