Equipment and Methods
(click any image to enlarge)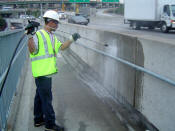 We provide a complete program to eliminate graffiti from your property on an on going basis or as an on call service. Any type of paint or magic marker is safely and easily removed with our detergent removal process. For spray painted graffiti tags that have penetrated the surface we also offer wet sandblasting services.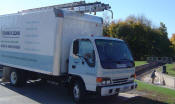 A monthly inspection and removal program is also available for property management firms, utility companies, municipalities and boards of education who have large quantities of buildings. Please contact us to see how we can keep your buildings free of graffiti year round hands free on your part.




Before and After photos follow (click to enlarge):
Give us a call if you have any questions.
---
Specific Areas of Expertise - For Commercial Cleaning Services

Please select the specific commercial services you may need,
for more information:
Commercial Building Cleaning - Interior
Commercial Building Cleaning - Exterior