Kitchen Exhaust Filter Change Out Service

Over 1,000 local restaurants and corporate facilities use our filter exchange program.
Please call us for a free estimate on your filter needs.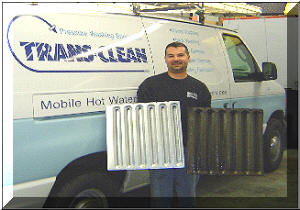 Here are just some of the benefits of our filter cleaning service:
Reduced liability
Lower labor costs
Meet fire codes
Monthly programs
Very affordable
Improve efficiency
No mess
Our service takes only a matter of minutes, our technician will change out your dirty grease filters and exchange them with our clean filters of the same size and quality. Most restaurants we service are on a monthly program, but we can customize the frequency to fit your needs.

This is a typical kitchen hood filter after we have removed it:
(Click any image to enlarge)
Let us set your mind at ease...
...with regular filter cleaning at your restaurant.

You'll save on labor costs, time and you'll be a lot safer, too!


Insurance Savings!
As an added benefit many insurance companies now offer a discount for clients using this service ! Please call us for a free price quote, we guarantee that you'll be surprised at how reasonable our rates are.

(Click any image to enlarge)

Who should be on filter service?
Anyone who cooks with a fryolator, char-grill, or flat top. Many restaurants, schools, churches, corporate kitchens, and deli's are signed on to this program.

Trans-Clean's Clean Filter Service Company has been changing restaurant grease filters since 1981. We now service over one thousand restaurants in the Connecticut & New York areas.

As you may know, grease filter cleaning is a tedious, troublesome and often neglected task. However it is necessary to maintain the performance of your equipment and protection of your property. Having clean filters reduces a fire hazard and complies with
health & fire codes.
Our exchange program replaces your hood with the same size filters.
Call Chris Panek at 1-800-535-5299 ext. 113 or if local at (203) 377-3171.
---
Please select the area for which you would like further information:

Give us a call if you have any questions.