Gutter Cleaning - Exterior Scrubbing

We provide both interior and exterior gutter cleaning services. Both are typically done at the same time as the washing of a complete house. We do not offer these as stand alone services. During the pressure washing of your house we will hand brush all exterior gutters to remove dirt and rain streaks. This will refresh your gutters to their original color. Our soft bristle brush is on an extendable fiberglass pole that will reach any height. We also can clean out the interior of your gutters to remove all leaves and debris. We follow this by flushing the gutters our with a low pressure rinse as well as all drain pipes to remove any debris that may be stuck inside them.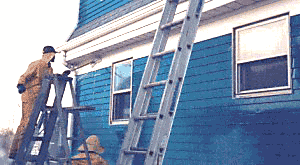 Give us a call if you have any questions.
$50.00 off Power Washing for Residential Jobs
(just mention this offer from the website for credit)
---
Other Areas of Expertise - For Residential Services

Please select the specific residential services you may need,
for more information: